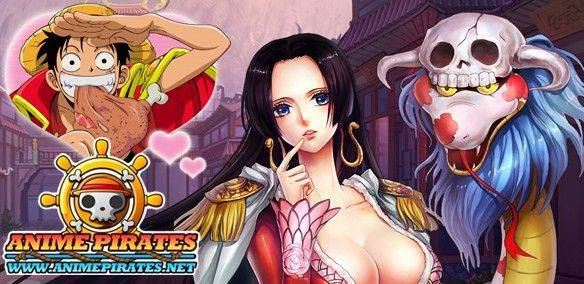 Play Anime Pirates MMO Game
Anime Pirates Free to play MMORPG browser game developed by PlayWebGame.

Set in the World of One Piece, a popular Japanese Anime, players get to embark on an epic journey is the captain of their own ship and crew, in search of riches and powerful artifacts whilst avoiding the threats of the high seas including the Marine Navy, other Pirates and even the legendary kraken. Anime Pirates is a free to play MMO with a premium membership option where players can purchase a variety of VIP levels in order to increase their bonuses and earn rewards in the game. The game is browser based and does not require the download of a client, though the option is available for those players that prefer it.

Is the captain of your own ship and crew players begin by choosing their main character from a selection of six available classes, each of which has their own built-up background as well as abilities and combat style. Choose from the Archer, the Gunner, the Summoner, the Magician, the Warrior or the Sword Woman is your main character, each having their own strengths and weaknesses based off the Basic Attributes. However, players can recruit new crewmates to make up for their own characters shortfalls and do not have to battle alone.

Crew come in all shapes and sizes with their own abilities and talents, divided between the Role Crew that can be acquired with standard currency or the Fame Crew where players must spend Fame points to add them to their Crew Roster, these points are earned through activity in some of the more challenging game features. One of the key strategy elements of the game is unlocking various Battle Formations with players able to take five Crew into a battle these Battle Formations will allow a player to arrange them in specific positions. Every Crew has two Abilities that they can perform in combat, powerful skills that can turn the tide of battle, however they must be in a particular position in whichever Formation the player has chosen they wish to have access to that Ability.

Players do not solely rely on the abilities of their crew to determine their power, but they are also able to upgrade their own Ship, enhancing particular compartments and rooms to give extra bonuses and boosts in the game. Alternatively players can use the Equipment Production feature to create Rings and Magic Weapons that will directly help boost Crew attributes and abilities.

The game is well divided between PvE and PvP content, such as fighting World Bosses and questing or challenging other players in the Arena, as well as other fun non-combat focused features such as Treasure Hunts that give players the chance to earn resources and rewards though there is a Cool Down between each Hunt (though this can be instantly refreshed using Gold) of. Players are also able to acquire many different pets by completing quests and then train them up to provide a benefit in battle.