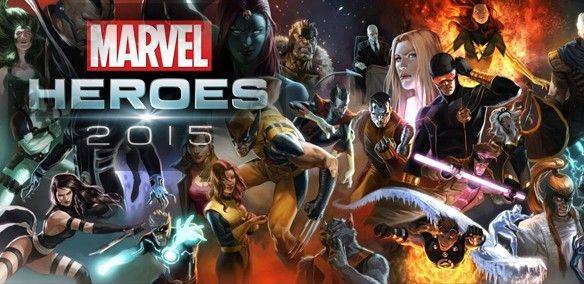 Play Marvel Heroes Omega MMO Game
Marvel Heroes Omega / Genre: Completely Free to play Superhero Themed Action MMO / Available Platforms: Windows / Developers: Gazillion Entertainment

With the main man that was behind Diablo and Diablo 2, President and COO of Gazillion Entertainment David Brevik, and well-known Marvel author Brian Michael Bendis, Marvel Heroes 2015 is a story driven action MMO set in the Marvel universe; the home to such big names as Capt America, Spiderman, The X-Men, Dr Octopus and even lesser-known heroes such as Squirrel Girl and the much loved Deadpool. The story that encompasses this MMO is when the powerful Cosmic Cube, as seen in the more recent Marvel blockbuster movies, falls into the hands of the malevolent Dr Doom.

As a player you get to take on the role of one of Marvelís most famed faces choosing from a whole cast of 26 superheroes, each of which has their own skills and abilities that offer unique play styles that are symbolic to that character. Whether flying through the sky unleashing lasers as Iron Man or picking up cars and hurling them at your enemies as the Hulk, the story, environment and depiction of these characters within the game captures the Marvel universe perfectly. Starting with handful of heroes players can unlock all 26 through various quests and achievements and a number of different skins/costumes for their favourite heroes showing the characters in the various forms as they have been depicted in the different multiverses from comics, cartoon and big screen.

The game is particularly PVE focused and players can get by playing solo and taking on the various quests and challenges as well as dynamic instanced dungeons that change each time you enter them. However, as The Avengers can attest to, sometimes itís better to go in as a group. One of the great features Marvel Heroes has included in the game is that each time a piece of loot drops it drops for everybody and can generally be used by that character, doing away with the sour feelings from bad loot drops or losing out on a role to someone else.

The game is completely free and the items and top tier gear can be acquired through playing the game, or purchasing items with in game currency, and all heroes can be unlocked through completing quests and events so players never have to spend a penny. However, for those who have more money than time there are various hero packs and various bundles that players can buy so that they can start from day one playing as their favourite superhero and also the facility to purchase in game currency with real-world money for those players who wish to get ahead.