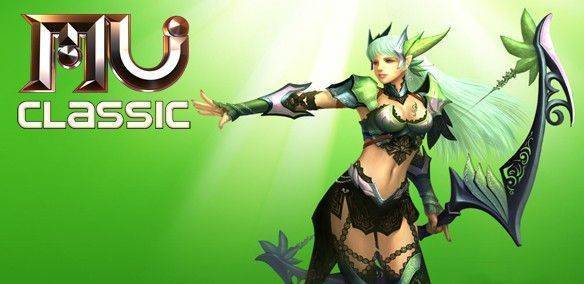 Play Mu Classic MMO Game
MU Classic

Game Style: Free to play MMO RPG
Available Platforms: Web Browser
Developing Studio: NGames

In a land of great wealth there had been peace and prosperity for many years, in their comforts and content the people no longer worried about the need to protect themselves as there were no threats to challenge their peaceful existence. The land was unprepared when the Demon invasion occurred, changing wild animals into monsters all across the kingdom forcing people all across the realm to find sanctuary in the towns that, for some unknown reason, the monsters were unable to enter and so towns became the only refuge for the humans. Now new heroes arise on the continent of MU, swearing to destroy the Demon army. You are one such hero.

MU Classic is an exciting free to play RPG accessible through your web browser where players can choose their own class of hero, explore the world, meet new characters and take on quests and tasks to help in the fight against the rising Demons. On their journey players will train up new skills and abilities to make them stronger in battle as well as finding all manner of items and gear to prepare them in the fight ahead. Players will primarily gain XP and level up giving them access to new areas in the game and unlocking new features for both solo, group based and competitive content.

In MU Classic players have five different classes to choose from, with the magic and weapon wielding Magic Gladiator and the terrifying and sinister looking Darklord only being available to higher level players that have unlocked them. New players will have the choice of the Soul Master, Blade Knight and Muse Elf to choose from, giving a mixed range of melee and ranged focused combatants that have a variation of physical/martial attacks or magic wielding abilities, each with their own unique attacks and methods of combat to offer different fighting styles to players.

Players will primarily focus on collecting gear and items from the various events and challenges available ranging from synthesised Maya items, Wings, and powerful artefacts that can be Upgraded and Enhanced to make them more powerful in combat as well as endgame Jewellery Set systems to greatly increase a characters power and defence.

There is a variety of available events and game features for players to explore that focus on both PVP and challenging PVE content, giving players the option to focus on the type of gameplay they prefer. For PVE, aside from the standard quest zones, players can focus on fighting a variety of World Bosses to acquire great rewards or entering the Blood Castles to try and kill all the monsters within the area. PVP content ranges from Guild vs Guild battles in the Castle Siege event or simply engaging in open world combat round the world where players are able to switch between Peace mode where they cannot attack other players and All mode where they can fight with anybody also flagged with the same mode.