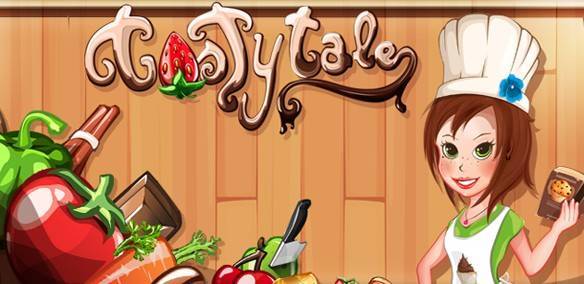 Play Tasty Tale MMO Game
Tasy Tale

Game Style: Free to play Puzzle Game
Available Platforms: Web Browser (Facebook), Android & iOS
Developing Studio: Sublinet

In Tasty Tale players are in charge of serving and creating food for a number of famous characters from well-known fairy tales including famous faces like Pinocchio, The Three Little Pigs, Pinocchio and even the Big Bad Wolf. This colourful free to play game has wonderful illustrated graphics, a fun theme and pleasant music and sound effects that will appeal to players of all ages. Using classic 3-in-a-row puzzle gameplay the game offers endless amounts of enjoyment as players gain XP, unlock new levels and get access to new features. With full Facebook integration and players can add their friends to gain extra lives and compete against them in the ranking to see which of them is performing the best.

The puzzles in Tasty Tale are made up of various colourful icons on a tile grid board, each icon representing different ingredients found in various cakes and bakes that the fairy tale characters will ask for. By switching around ingredients on the board allows the player to get get 3-in-a-row of the same ingredients, which will remove it from the board, dropping all above ingredients down to fill any gaps and then new ingredients/icons appear in the top spaces now opened up on the board. Players can match four or five ingredients in a row to create special ingredients that will have an amazing effect on the puzzle board, removing multiple ingredients at once.

There are a variety of different game modes that players will discover as they advance through the levels, ranging from the standard "collect ingredients" level where players are provided with a list of numerous ingredients that will appear on the board and must acquire a specific number of them by removing them by matching 3-in-a-row or more. The Fly game mode will put one or more flies into the puzzle and players must remove the tiles below the flies to make them drop to the bottom row in the grid. The ice cube game has players trying to destroy ice cubes, the ice cubes will appear in fixed positions on the puzzle grid that do not move, however the ingredients are able to pass underneath them as normal, by removing ingredients on the same tile as an ice cube it will remove the ice cube as well. Levels can become increasingly more difficult with the introduction of obstacles and blocks such as wooden crates that take up slots on the grid giving you less room to make 3-in-a-row matches.

Each game mode typically revolves around move or time based games, where players must complete the level in a set number of turns all before the time runs out, if the player fails the level then they will lose a Client/life. Once a player has run out of Clients they are unable to continue playing until they either wait for the Client timer countdown where they will recover a Client automatically, at Facebook friends to gain additional Clients or spend real-world currency which can also be used to gain extra tools and boosts to help them.